Street legal 900 hp tuning for M5 F90 & M8 F98
With the stock power of 600 hp – 635 hp, the M5 and M8 vehicles of the F9X series already have a remarkably high performance.
That this is not enough for us, we have already proven with our over 1000 hp strong M5 F90.
However, the issue of street legality registration plays an increasingly important role in tuning, which is why we have added there again.
It is possible for us to register a power increase of 900 hp in the M5 F90 and M8 F9X models.
Thus, you can enjoy unique performance to the fullest completely legally.
                                                                                                          
Techncal changes

To ensure that this performance is stable and the longevity of the engine is maintained, we have made some changes. First, the technical changes were made: Installation of infinitas upgrade turbochargers with a power range up to about 1000 hp and strengthening of the engine. In addition, upgrade spark plugs were installed. The exhaust tract remained standard including the OPF. The standard protection functions were retained.
infinitas Software-Optimization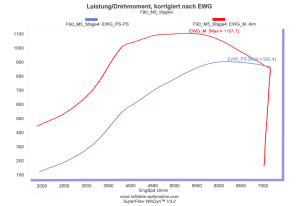 After the hardware modifications, the next step was software optimization. Here, our engineers tuned the vehicle individually via the ECU on the in-house chassis dynamometer. In addition, a transmission software optimization was carried out and the VMAX was raised to 340 km/h. That's a full 35 km/h faster than the standard.
Time hunting

We measured a time of 2.7 seconds from 0 to 100 – in comparison, the standard 2-ton BMW manages the sprint in 3.4 seconds. The infinitas V8 manages 100 to 200 km/h in an incredible 5.2 seconds.
Price
The entire conversion to supercar level can be implemented from around €15,000.
Individual performance increases
Even if 900 hp and 1100 Nm in a BMW M5 is already a huge performance, it does not end here. On request, we can provide performance above 1000 hp in the BMW M5 F90 & BMW M8 F91/F92/F93. For this, a few more changes must be made to achieve this, such as catless downpipes, adaptation of the engine cooling, etc. < Send request >